Green Ways To Keep Your Home Cool Over Summer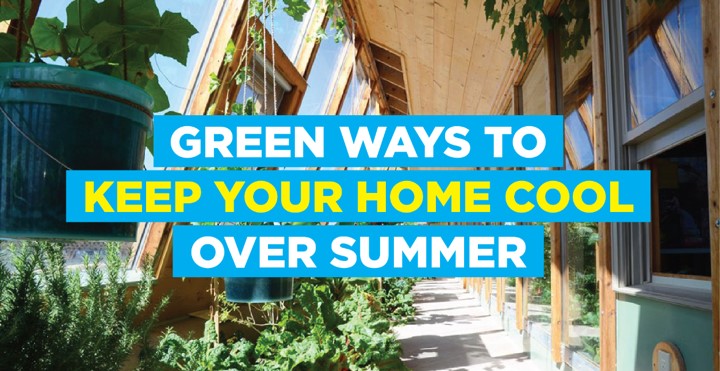 Cooling your home over Summer while reducing your energy use is easy with passive cooling. Investing in green energy is an environmentally-friendly and cheaper alternative to traditional cooling methods. Here are three simple, cost-effective solutions to cool down your home and protect the environment at the same time.
3 simple, eco-friendly ways to cool your home
1. Ceiling fans as an alternative to AC
Ceiling fans are an ideal way to cool your home. Not only are they far cheaper to run than air conditioning units, but they are also a lot safer on the environment. Ceiling fans are energy-efficient, using around 75% less energy than air-conditioning units. They work by increasing air circulation by moving hot and humid air around to provide a gentle breeze, providing a cooling effect on the body. Ceiling fans have been shown to reduce energy usage by as much as 40% in the summer and 10% in the winter.
The best part about ceiling fans is that they are available in a range of styles and finishes to suit your home and interior design. Keep in mind that in general, the fans that are more elaborate or ornate in their design move less air and are therefore less efficient since they need more power. When choosing the material of the blades, usually timber, ABS plastic, marine grade stainless steel, and aluminum finishes are the way to go.
In general, metal blades produce a stronger airflow than timber blades, but they also require more power. If you are being environmentally conscious with your next purchase, take this into account. Regardless of what finish or design you choose, a ceiling fan is a far more efficient, cost-effective way to cool the house.
Using between 200-500 watts as opposed to an AC's 1000 watts or more, a ceiling fan is the best choice for saving power, money, and the environment.
2. Window design, use and additions
Windows are an important asset in your home; providing light, warmth, and ventilation. Over summer, however, windows can attract a lot of heat making your home hot & humid. Reducing heat from your windows can be made easy by replacing them with energy-efficient windows.
These windows are constructed to aid in optimal insulation function by featuring a multi-layer coating to minimize the amount of UV light that passes through the glass pane.
Another cost-effective way to reduce heat through your windows is by installing a window shade such as an exterior solar window screen. These screens can be fitted on the exterior or interior as roller shades or fixed panels, looking like fly screens. The screen is designed to black out the sun's rays and in turn, blocking heat. It also helps in managing glare and UV protection, all the while not impairing your view to the outside.
Solar screens are one of the most inexpensive and energy-efficient options available, costing less than $70 per window on average. Solar shades are made from a form of mesh and can be customized to suit your home and tailored to the amount of sun your window attracts. Not all solar screens are made the same, as fabric color and density determines the overall thermal performance of the screen.
For those who live in hotter areas experiencing longer warmer seasons, window films can be a great option because not only do they block the sun's heat over summer, they do so in the winter too. They are great for blocking UV rays and glare without having to invest in heavy drapes or shutters.
For homeowners who have a lot of artwork or furniture at risk of fading; films are effective at blocking the harmful rays that cause this. Window films are energy efficient and have the same thermal performance to that of a standard double-glazing window or Low-E window but at a far cheaper cost.
3. Plant shade
When most people think about eco-friendly alternatives to cool their home, they often neglect to realize the importance and effectiveness plants can have in producing a cooler space over summer. Houseplants absorb warm air, releasing oxygen and cool moisture into the air, as well as providing physical shade from the sun.
According to NASA, plants can alter the temperature of the earth's atmosphere through the process of photosynthesis. Large canopies of plants encourage water vapor to rise into the atmosphere and produce precipitation (moisture) cooling the area down while blocking sunlight. To harness this natural air-cooling system, think about selecting houseplants to encourage optimal shading and cooling over Summer. For indoors, look to plants such as: •Aloe Vera: aloe vera has a high-water content, releasing cool evaporative moisture in the air. •Bamboo Palm: This small palm acts as a humidifier, producing moisture in the air and filtering out irritants to keep you both comfortable and healthy over summer. •Peace Lily: This lush plant rates highly in many studies for its cooling abilities and ability to reduce toxins in the room.
Outdoors, planting the right trees can conserve energy and reduce your power bills. Look to large deciduous trees such as maple, cedar, elm, and beech trees for their heavy canopies over summer months (for heightened shade & cooling) and fall-off during the winter months (for light and warmth). These trees can be planted south of your home to provide maximum roof shading. Smaller trees should be placed to the west of your home to protect from the lower afternoon sun.
Cool your home naturally over summer
Much of your summer cooling expenses can be saved by using passive cooling techniques. Blocking heat and rays from the sun can be achieved by greener energy alternatives which not only saves money but is also cleaner and safer for the environment. Contact our residential electricians in your area to help install your ceiling fan before Summer starts, and say hello to a cooler, more energy-efficient home.