4 Benefits of Conducting an Energy Audit at Home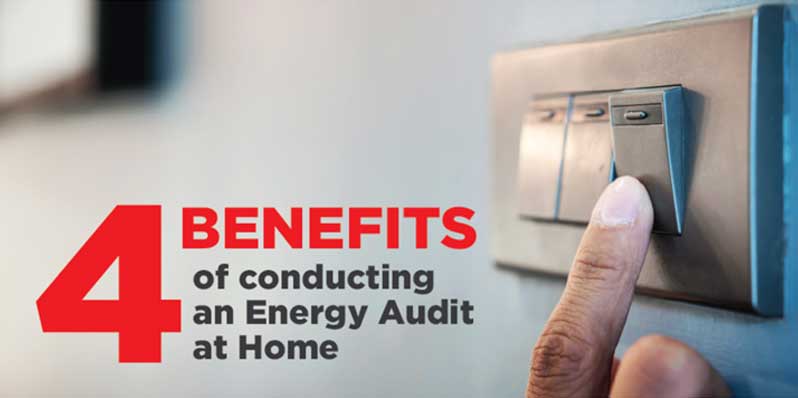 A home energy audit is a great way to assess and reduce your home's energy use in addition to saving money. Once you're aware of the areas and appliances that need energy efficiency upgrades, you can work with a master electrician to ensure your home is safe and energy efficient.
1. You can identify opportunities to save money on bills
Australia is a domain of extreme weather conditions, so conducting a thorough energy audit of your home will always be valuable. An energy audit allows you to inspect exactly where your home is losing energy, allowing you to make the necessary upgrades or repairs to save you money in the long-run. By figuring out if there are any spots in your home that are losing excessive amounts of hot or cold air, you can rectify it and save money on your monthly energy bill
2. Allows you to budget and forecast other home expenses
By taking inventory of any appliances or fixtures in your home that are in need of repair or upgrade, you are able to budget the necessary finances to keep your home running and energy-efficient. Most of us are unaware of the fixtures in our home which may be causing a higher energy bill. An old refrigerator, a window that doesn't seal properly, etc
When you perform a home energy audit you can identify these inconsistencies in your home and make an effective budget to cover any upgrades or forecast other expenses needed to keep your appliances running efficiently.
3. Allows you to make informed decisions when it comes to buying energy efficient devices
You can make significant savings on your energy bill by investing in energy-efficient devices. A typical Australian household spends around $1750 on electricity every year; with heating & cooling making up the bulk of energy usage. After conducting your home energy audit, make sure that your home is as thermally efficient as possible before purchasing any energy-efficient devices to ensure that you've covered all your bases.
This way the assistance of your device isn't being hindered by any inefficiencies that have been overlooked. Reducing your energy bill can be as simple as replacing a 20-year-old fridge with a modern energy-saving one, or by replacing the light bulbs in your home with energy-efficient options.
4. You do your part for the planet by cutting down energy use
By becoming more aware of the energy use in your home you have the freedom to make more energy-efficient choices to not only save money but also the planet. Households that rely on fossil fuels to power their home are responsible for significant amounts of carbon dioxide (CO2) emissions.
These emissions release greenhouse gasses in the atmosphere, which has been said to be the primary cause of global warming in recent decades. Reducing your household energy use can decrease the amount of greenhouse gas being emitted into the atmosphere, effectively improving your carbon footprint. Improving the energy-efficiency in your home is one small step you can do to do your bit in protecting our planet.
How can a master electrician help with a home energy audit?
A master electrician can help provide tools such as a digital probe thermometer and blower door as part of an in-depth energy audit to provide you with the best ways to improve your home's efficiency. A qualified electrician is trained to identify electrical hazards and safely handle any electrical problems your home has.
Improve your home's energy efficiency with a home energy audit
A home energy audit will save you on your monthly power bill as well as reduce your impact on the environment. The long-term savings of an at-home energy audit will quickly repay itself by making your home more comfortable and by identifying the areas of your home that needs improvement. Qualified residential electricians can help assist you on your next home energy audit and provide you with ways to make your household more energy-efficient.