Getting a Quote for Your Electrical Work Do's and Don'ts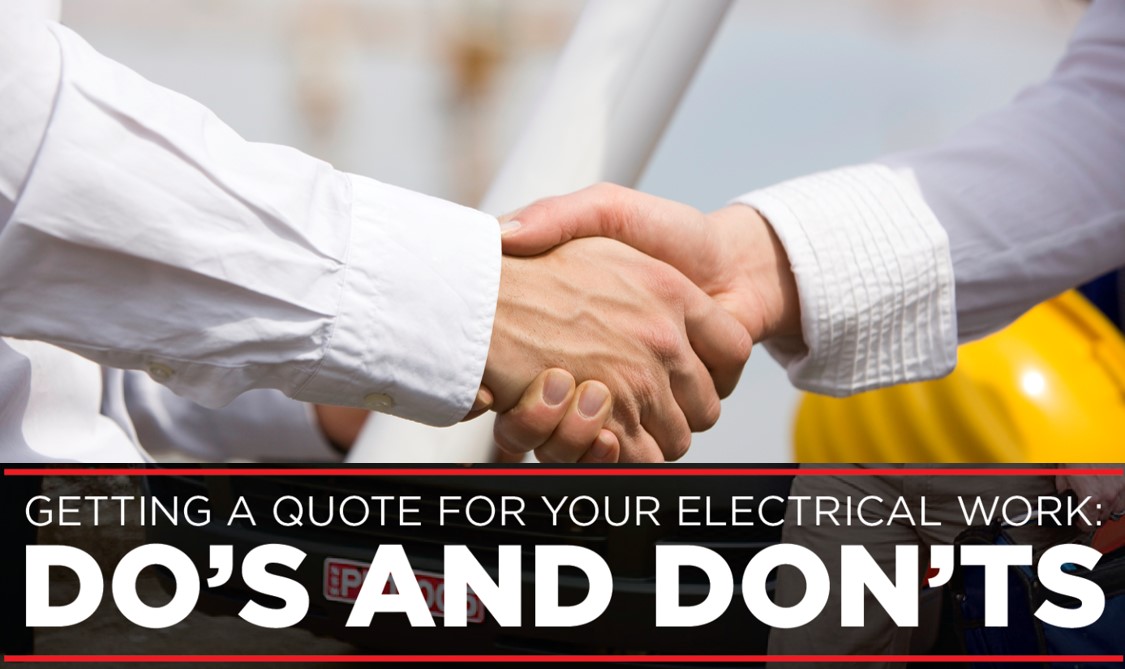 There is a wide variety of services that your electrician can provide for you, and in many cases, you might like to receive a quote before the work begins. This sounds like a simple process, but there are a few things you should keep in mind to ensure you get the most value from your electrician, and that the quote you receive is as accurate as possible.
What services might you need an electrical quote for?
There are several services that you may require a quote from an electrician for. These may include: •General maintenance and repairs •Electrical inspections •Lighting circuits •Alarm-system installation and maintenance •Home re-wiring •Switchboard maintenance and upgrades •Fuse maintenance •Air conditioning installation •Smoke alarm installation and more
The 'Do's: Things to consider when asking for a quote
Provide specifications for the work required
When briefing an electrician on work you need completed, make sure you're specific about what needs to be done. In some cases, the quote is a commitment to provision of service, so the job needs to be accurately described before a price is agreed. Both parties to an electrical quote need to be on the same page throughout the quotation process. Make sure that the quote is itemized so no parts of the job are omitted.
Key things you should check when assessing electrician quotes
Do they have a valid license?
All electricians in America are required to hold a valid license to conduct any electrical work, no matter how small the job is. It's crucial that you conduct a license check before agreeing to a quote and hiring an electrician.
Do they hold the right certifications and qualifications?
All licensed electricians will hold the necessary certifications and qualifications to carry out electrical work. But you should also ask whether any subcontractors will be used on the job, and if so, you can request proof of their license.
Do they have appropriate insurance cover?
Check that your electrician has insurance and liability cover. Without proper insurance, you may bear the costs of any accidents or unforeseen damages that occur. Be sure to check for proof of insurance cover in your quote.
Does their work comply with relevant standards?
The American government has in place several standards to govern and monitor the quality of electrical work conducted around the country. Your electrician should be able to identify the standards that are applicable to your project and fulfil them accordingly. You may request these standards to be included in the quote.
Do they offer itemized pricing?
If your project involves several components, your electrician's quote should include a breakdown of the costs in an itemized list. Itemized pricing offers more transparency and means that you won't be unpleasantly surprised by any hidden costs.
Do they have a warranty period?
Can your electrician guarantee they will follow up on any repairs or additional work required on a job? Make sure to read the fine print on this so you're aware of all terms and conditions.
Can they provide references or testimonials?
Check your electrician's website to see if they have client testimonials to vouch for their work. If not, there's no harm in asking your electrician to provide references from previous clients.
The Don'ts- Things to avoid when asking for a quote
Don't disregard the most expensive quote
This may be a full service, accurate quote including high quality service. Cheaper quotes aren't necessarily better quotes. Major differences in quotes may mean major issues in performance.
Don't ignore unclear information on quotes
It's non-information in commercial and legal terms until it's clarified. You can ask for an accurate, revised quote which commits to a clear performance task.
Don't allow a 'rubber stamp' process when reviewing quotes
If your quote is for work at your business, examine it in detail prior to seeking management approval. Comparative quotes should be assessed, and a report provided for consideration.
Be aware of regulations •Quality requirements: electrical work is conducted under the relevant Standards. It's a reasonable expectation that work will be carried out to these standards. •Guarantees on work: Electrical contractors are obliged to provide service in terms of any issues arising after completion for the period of guarantee specified in a quote, or if not specified, under basic statutory warranties. Support and remedial work is normally specified in contracts.
Ensure all services being provided are listed and priced individually, and that the license and credentials of your electrician are visible on the quote document. Remember, the cheapest quote isn't necessarily an indicator of the best quality, so ensure that you conduct your research accordingly; ask for testimonials and make sure your chosen electrician can provide a warranty or guarantee of any work conducted.
Want a free consultation?
At Linc Electricians we offer a free consultation for any electrical job. We pride ourselves on being transparent with our clients, meaning that there are no hidden costs or surprises. You can even choose whether you want to be billed by the quote or by the hour. If you have electrical work that needs doing, contact Linc Electricians today and a member of our team will be in touch with you shortly.